Cheryl (grandaughter Laura)and Chip Grono Innkeepers


SPECIAL NEEDS?
DOG, KIDS, CAN'T CLIMB STAIRS, SPECIAL SOCIAL SITUATION
We try hard but we know we are not always right for every traveler. But we try not to be too dogmnatic about our policies. Somethings might not work on a crowded weekend but might be perfectly OK during the week. One room is not good but another one is just right.
SOOOO
If you have a situation that is keeping you out of some other bed and breakfasts - or - if you think you might not be welcome or be able to stay here- take a chance - call- if we really can't help you, I'll bet we will make a try at finding a solution for your needs 610-388-1435
Reservation Policies
Checkin is after 3PM
Please call if you are going to be after 5PM or if you change the time you told us you'd arrive
Cancellation must be ten days before check-in
Cancellation less than 10 days- we work to rebook the room- If we are successful a $25 booking fee is charged to the original guest.
If we cannot re-book the room we charge the first night of the stay. We can offer a credit for that charged night BUT ONLYif the guest re books for a later date PLUS one more day than the orig reservation
No smoking in the INN -areas outside are provided.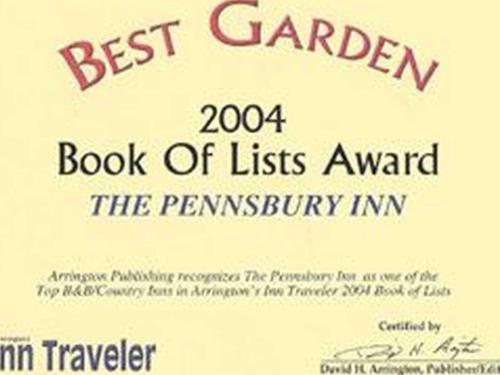 "Best Garden 2004"
awarded by
Arrington's Inn Traveler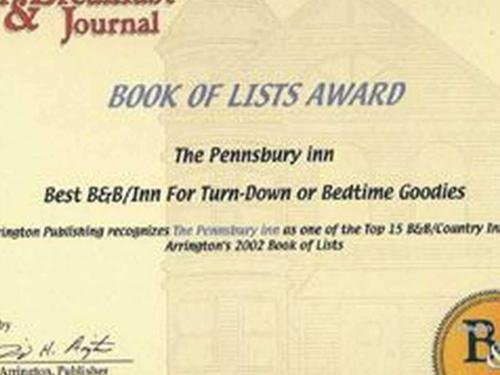 "Best Turn-Down Service 2002"
awarded by
2002 Arrington's Book of Lists
"Best Garden 2003"
awarded by
2003 Arrington's Book of Lists
Contact Us
We welcome any feedback on our website.
Please send us ideas on how to better inform you about The Pennsbury Inn, or how we can make your stay with us more delightful!
Website: www.pennsburyinn.com
Email: info@pennsburyinn.com
883 Baltimore Pike
Chadds Ford PA 19317
USA
Phone: 610-388-1435
Fax: 610-388-1436